Ministers – The people of this church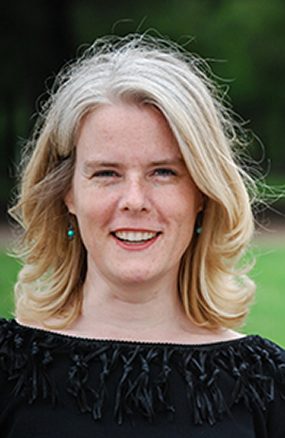 Mamie Broadhurst, Co-Pastor
mbroadhurst@upcbr.org

Mamie Broadhurst comes to University Presbyterian Church with a wide variety of experiences and gifts. Mamie started her professional career teaching US History in North Carolina to all levels of 11th graders within the Winston-Salem/Forsyth County School System after receiving her BA from UNC-Chapel Hill in Social Studies Education and American Studies. She then began a path that led her to Young Adult Volunteer (YAV) work in Guatemala, working with Guatemalans as a liaison with short-term mission groups. Her interest in YAV work continued at the Nashville Epiphany Project at Second Presbyterian Church in Nashville where she organized their on-site Room in the Inn program to provide food and shelter for homeless men and women, as well as preaching and leading classes on mission service. She then moved to the National Volunteers Office of the PC(USA) where she was the primary contact and advocate for 30 YAVs, coordinating the discernment process for the incoming class of YAVs, and adapting mission interpretation resources for their year-long service.
For more information on Mamie and the experience she brings to UPC click here.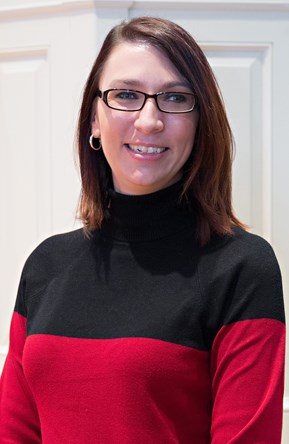 Caralyn Durham, Office Manager
cdurham@upcbr.org
Caralyn is a graduate of Baton Rouge High School and LSU where she earned a BFA in Graphic Design. After a successful career as a designer and by divine intervention, she joined the staff of UPC in 2001 as Administrative Secretary and in 2018 she was promoted to Office Manager.  Caralyn is happily married to Jeff Janes and has three amazing children (Brandon, Taylor, and Dustin) and three wonderful step-children (Austin, Brandon, and Paisley)!  She's also a devoted mom to three fur babies (Cosmo, Abby, and Elliot). She is an avid LSU football fan, enjoys traveling, and in her spare time loves to paint, draw, and spend time with her family and dogs.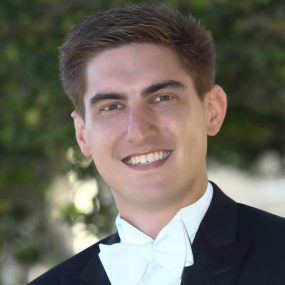 Ross Cawthon, Choir Director
rcawthon@upcbr.org
Ross comes to UPC from DeLand, Florida, where he taught chorus for eight years at DeLand High School and was the Music Director for Lake Helen United Church of Christ. Ross has sung with the Orlando Sings Symphonic Choir, Festival Singers of Florida, and various ensembles at the University of Florida. At UF, he earned both a Bachelor of Music Education and Master of Music in Choral Conducting degrees. He is currently pursing a Doctorate of Musical Arts degree in Choral Conducting at LSU.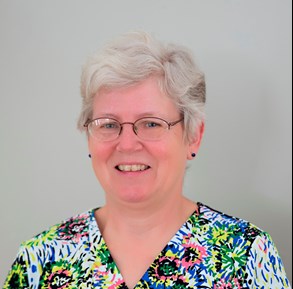 Anne Maverick, Organist
amaverick50@gmail.com
Anne Maverick is our organist. She came to us first as a substitute on several occasions and was attracted by the warmth of the congregation, the welcome theology, and the wonderful camaraderie of the choir. She has enjoyed getting back in touch with her musical self, and finds it a joy to play for people who sing!
In case you can't tell by the way she talks, she is from the midwest, born in Milwaukee and raised there and St. Louis. She earned a bachelor's degree in music and master's in English and library science. She is a retired school librarian, and has also worked as an organ builder, music teacher, English teacher, technical writer and, of course, church musician.
She met her husband Andy in the Bach Society chorus in St. Louis. They were blessed with two beautiful children late in life. James is an aspiring opera coach and choral conductor; Emily is a graduate student in biomedical sciences. Anne and Andy take pleasure in hiking and camping in the Colorado mountains, reading, playing bridge, traveling, and each other's company.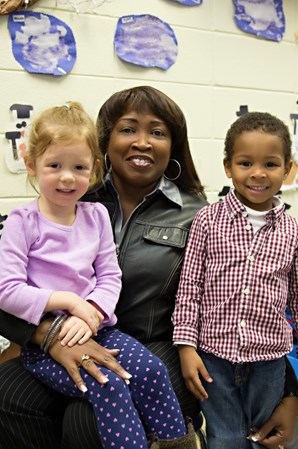 Terry Iyasere, Day School Director
upcdayschool@upcbr.org
Terry G. Iyasere, was born in Newport News, VA. She is the third of seven children. Her family moved to Louisiana in her early elementary years. She received a Bachelor of Science Degree in Interior Design with a minor in Child Development from Southern University A&M College, post education credits from the Louisiana State University and Master of Arts in Elementary Education from the University of Phoenix. Terry has many years of experience working with children, including raising four of her own. She has twenty years of varied classroom experience working with preschool and elementary school age children and nine years of administration experience and leadership. In February of 2006, she joined the University Presbyterian Church Staff as the Day School Director. Her goal along with the staff is to always provide a safe, loving, happy and prepared environment in which each child can develop to their fullest potential. She is married to Sonny O. Iyasere and is the mother to four wonderful children. She is active in her church and a variety of civic and cultural organizations and clubs. Outside of professional interests, Terry likes to read, travel, dance, and spend time with family.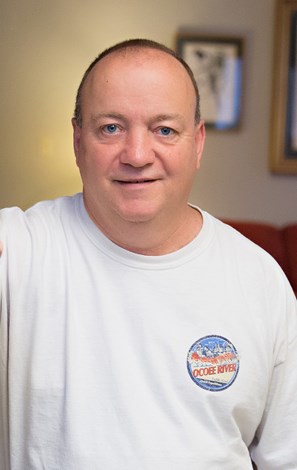 Robert Gourgues, Custodian
Robert was born and raised in Plaquemine, Louisiana. He grew up across the street from St. John Catholic Church where he served as an altar boy for many years. He is the youngest of seven siblings, two of which are deceased. Robert is a diehard LSU football fan and has been working as a ticket taker for several years now, and was recently promoted to gate captain. Robert has worn many hats during this journey called life such as Boy Scout Master Troop 38, member of Dow Advisory Panel, Finance manager, restaurant manager and many others. His greatest blessings are his children, his grandchildren, and UPC. Robert has a son, Robb, and two daughters, Morgan and Jenna. He has two granddaughters, Kaci & Kaylie. Robert and his wife enjoy travelling, and although they don't travel as often as they would like, they look forward to many travels in the future.
UNIVERSITY PRESBYTERIAN
3240 Dalrymple Drive
Baton Rouge, LA 70802
(225)383-0345
(225)383-3495 FAX
DAY SCHOOL
(225)344-8077
Created by dezinsINTERACTIVE.
© Copyright 2015-2019 University Presbyterian Church of Baton Rouge. All rights reserved.